Walking in Cádiz / Buy Now
Buy 1 get 3!
For € 12,95 you'll receive:
1. The Cádiz hiking guide (English version) for desktop (PDF)
2. The Cádiz hiking guide (English version) for tablet & e-reader (PDF)
3. The 14 separate walks (English versions) for smartphone (PDF)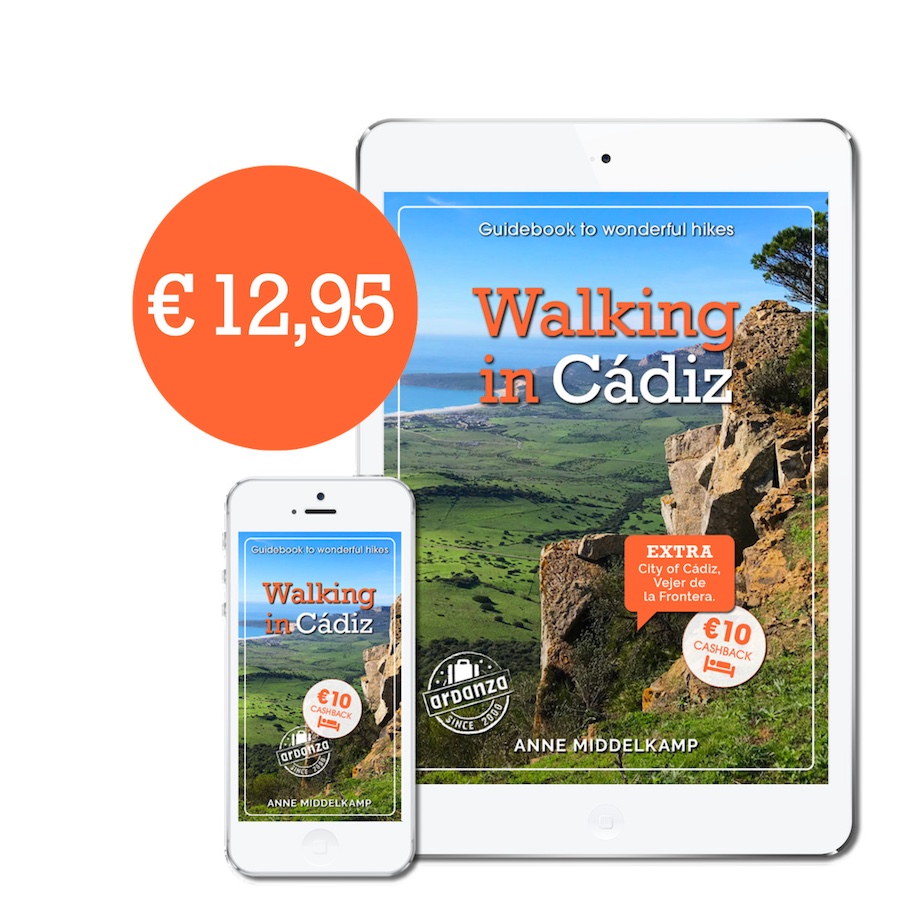 Hi Anne, I bought your walking guide yesterday.
It looks beautiful and very well done.
All the extras you mention with the walks are very interesting.
A good buy!
I have just bought your walking guide and I am very pleased with it. It's wonderful, extensive information, lots of facts and interesting trivia and beautiful photos. Very nicely and catchy written too!
Really well done, nice to read and it looks nice and fresh, can't wait to get to Cadiz to do the walks!
The province of Cádiz, in the southernmost tip of Spain, has an amazing variety of landscapes. From the high peaks of the Sierra de Grazalema in the north to the rolling hills of the south, with their millions of sunflowers in the spring.
There is marshland, farmland, cliffs, fairytale forests and extensive sandy beaches on the Costa de la Luz, the aptly-named "coast of light". Cádiz is a paradise for birdwatchers and hikers.
In this walking guidebook, the first of its kind we think, you'll find 14 wonderful hikes: In the mountains and forests, alongside the ocean and city walks in Cádiz and Vejer de la Frontera.
The book includes interactive maps, with insider tips on where to eat and stay and interesting places to visit. To make your stay in Cádiz an unforgettable one you'll find an overview of companies that organize activities and adventures. From bird-watching, dolphin excursions and flamenco shows to surfing and sherry tours.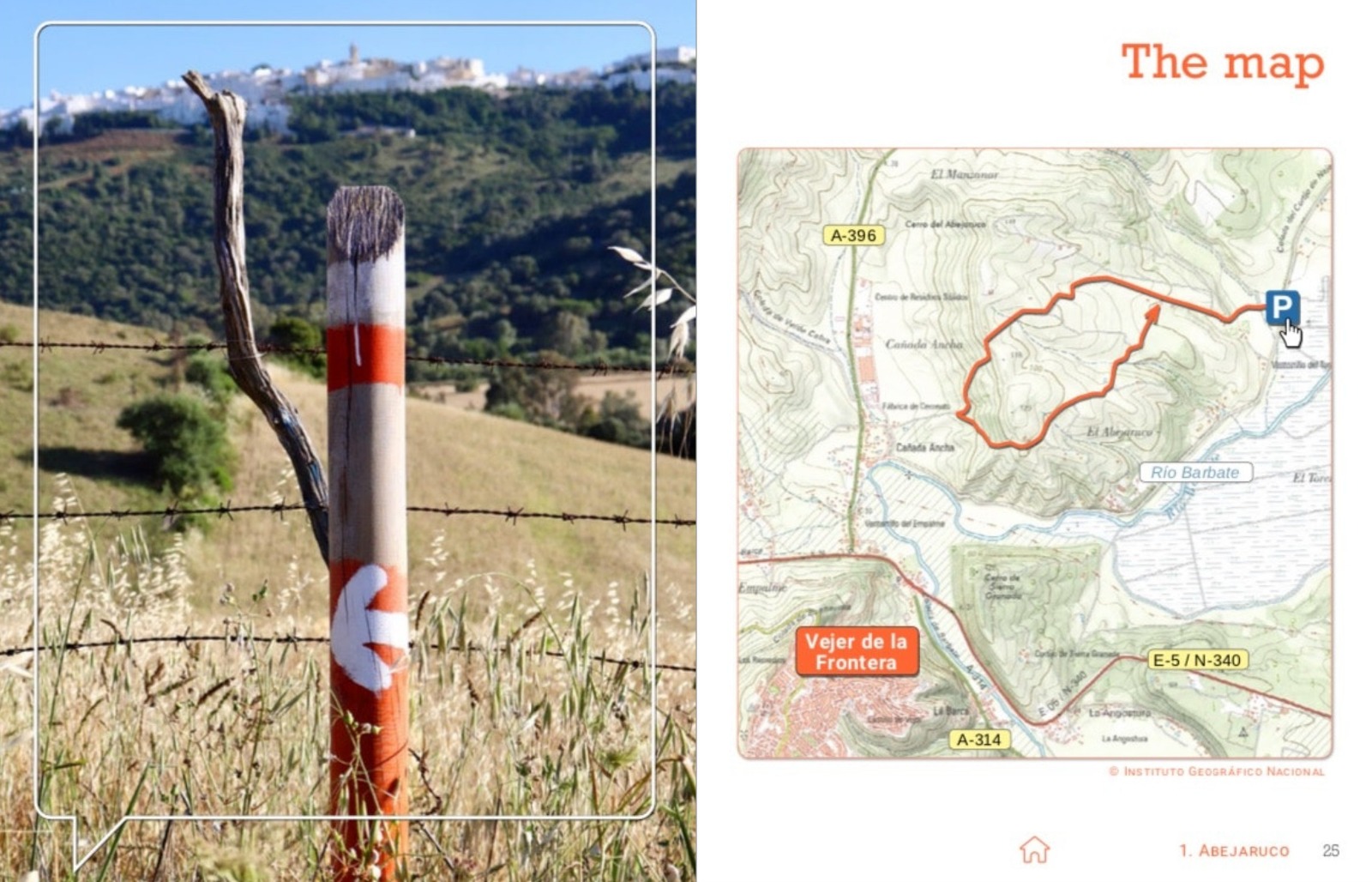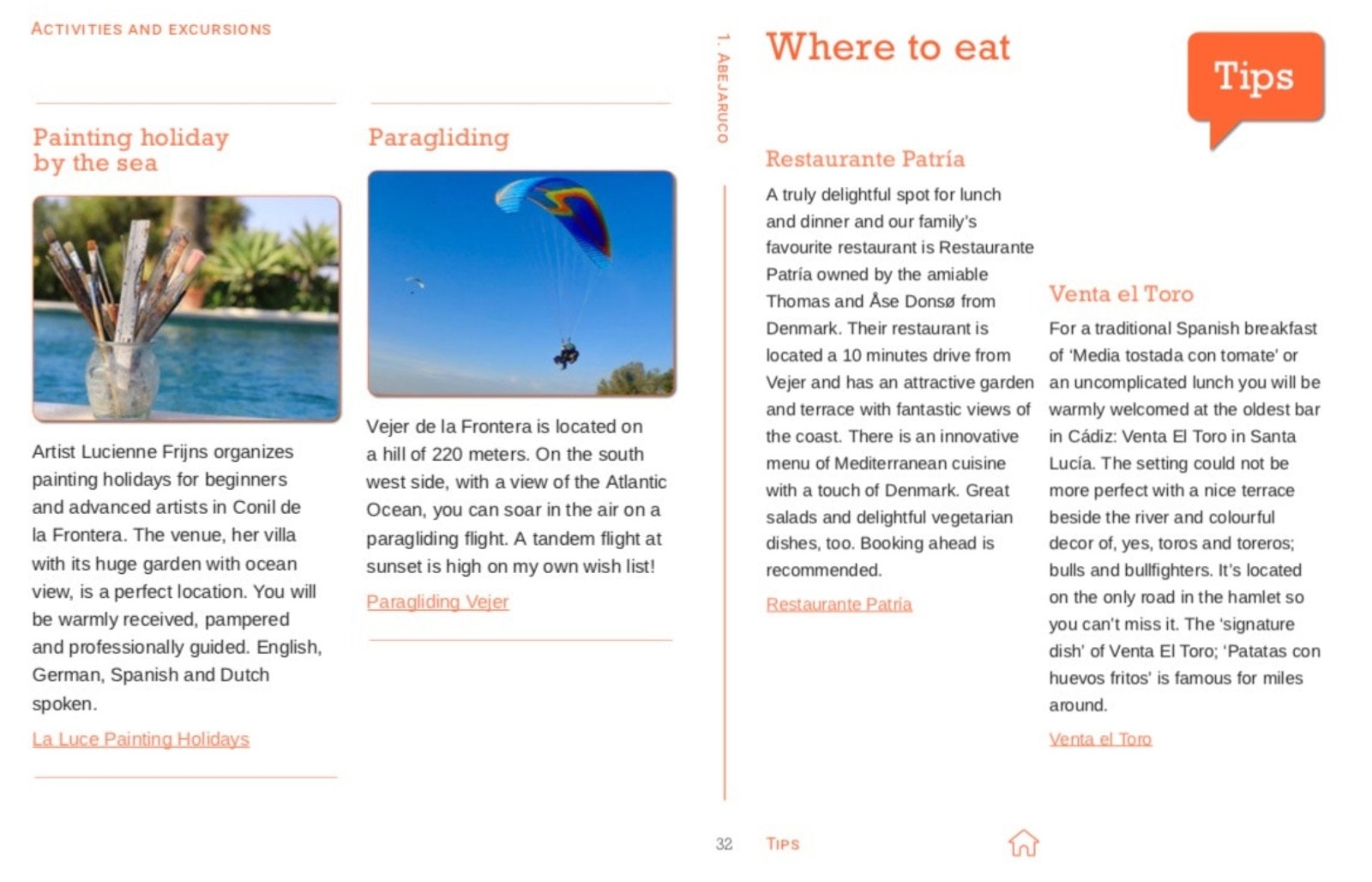 What do I get?
Contents of the Walking in Cádiz ebook:
• An Introduction to the province of Cádiz
• 14 walks with practical information, images and maps
• 12 nature walks
• 2 city walks: Cádiz and Vejer de la Frontera
• 15 interactive & printable maps with route info
• Interesting facts about the area
• Favourite tapas bars, beach bars and restaurants
• Where to stay, each hotel with € 10 cashback promotion (hotels, guesthouses, apartments and holiday homes)
Additional appendix with a handpicked selection of interesting excursions and adventures.
Free Extra: Smartphone version!
In addition to the digital walking guide for your computer, e-reader or tablet, you get an extra version with all the individual walks for your smartphone. This way you always have all the necessary information about your walk at hand and you won't get lost!
Fast & easy!
Download the walking guide immediately after your order
After your order you will receive a link by email to the downloads below:
1. The Cádiz hiking guide for desktop (PDF)
2. The Cádiz hiking guide for tablet & e-reader (PDF)
3. The 14 separate walks for smartphone (PDF)
Follow us on social media: