Vejer de la Frontera: 'La niña mimada del sur'
Vejer de la Frontera, a white hilltop town at the Costa de la Luz in Cádiz, South of Spain, is pretty as a picture, With her back to the sea, Vejer looks out over the mountains of the Alcornocales and the rolling fields of the former lagoon of la Janda,  where millions of sunflowers bloom in the spring.
"La niña mimada del sur" – the beloved darling of the south, Vejer is called. With her spotless white houses, narrow cobblestoned streets, a sandstone church, a sturdy castle, and the Arabic city walls. Vejer has a laid-back approach to life, countless amazing restaurants & tapas bars, delightful patio's, lively bars. Love at first sight, I promise.
This is where I live, Let me tell you about her…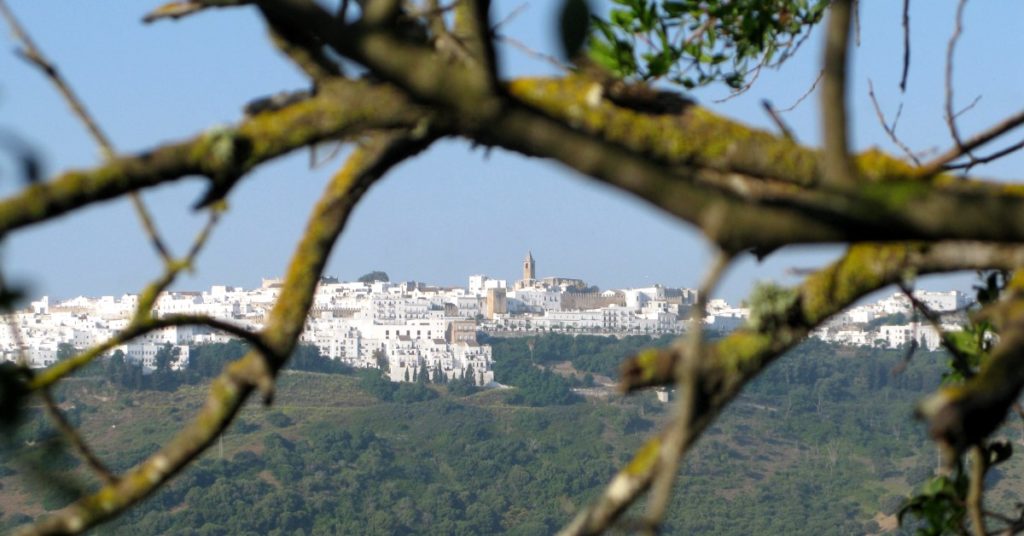 Vejer and the secrets that surround her
Waterfalls, a Roman aqueduct, beaches & the oldest pub of Cádiz
Vejer is an amazingly intact monumental town where traditions are held high. With narrow, steep streets and alleys, palace houses, a sturdy castle, and beautiful squares. The palms, orange trees, and colorful patios contrast beautifully with the white walls that encircle you. From the city wall, you can look as far as Medina Sidonia, one of the oldest towns of Europe. Near the old windmills vultures and paragliders hover above the marshes and hills of La Janda.
Santa Lucia, at the foot of Vejer, is home to the region's oldest and most colorful pub with bull's heads; Venta el Toro. Santa Lucía has a waterfall and an impressive Roman aqueduct. El Palmar, at only 10 kilometers is Vejer's beach, a laid-back spot, very popular with surfers all year round!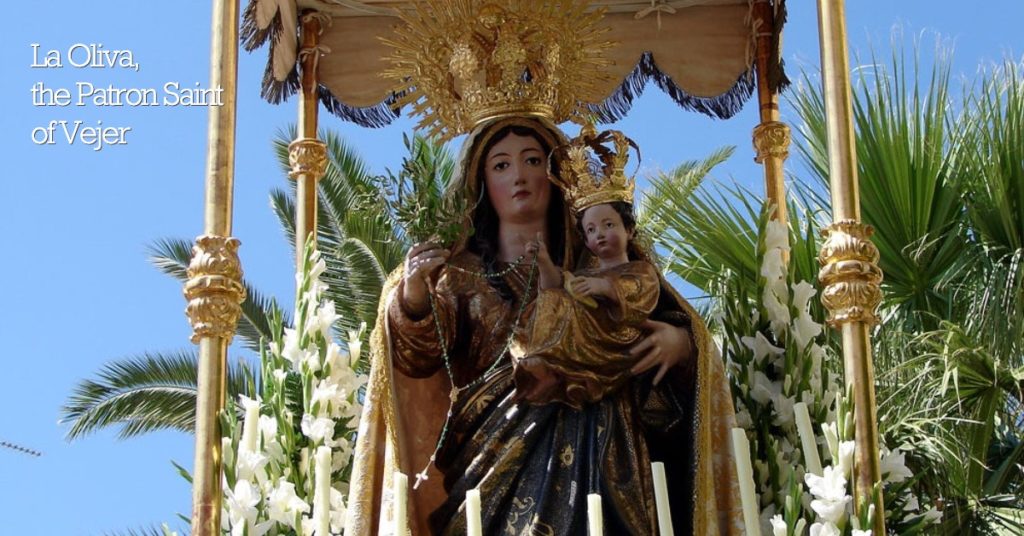 Vejer, an impregnable fortress
In Vejer Frontera, proof of habitation has been found since 800 B.C., but this area has been inhabited for much longer, cave drawings have been discovered in the vicinity dating back to Neolithic times (6500-3000 B.C.). Vejer de la Frontera was called Besaro in Roman times and Bashir by the Moors. This has been a strategic site for over two thousand years due to its elevated position. Its thick walls kept out attackers for centuries. In Medieval times, Vejer could be reached from the sea by boat across the Rio Barbate. Barca de Vejer, at the foot, was the port and transshipment site. Nowadays, the river has largely dried up.
From the year 711, Vejer was ruled by the Moors for almost 6 centuries. Remnants of its cultural richness can still be found: In the gate of the castle, the city walls, and the street plan.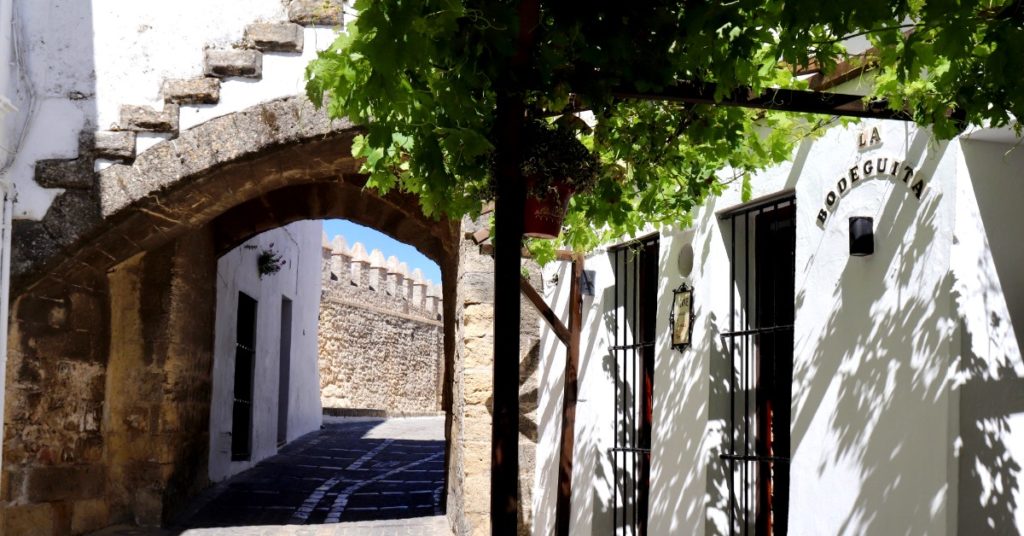 Monumental Vejer de la Frontera
The old town is surrounded by an Arab wall and has 4 city gates: the Arco de La Segur, Arco de Sancho IV, Arco de la Villa, and Arco de la Puerta Cerrada. There are three impressive watchtowers left: The one of Casa del Mayorazgo – that of San Juan and the Corredera. Vejer was never occupied by hostile invaders! Within these Arabic city walls, you'll find numerous amazing monuments: the Iglesia del Divino Salvador, with its beautiful wooden altar, El Castillo, the 10th-century castle with an original Moorish horseshoe-shaped entrance gate, the Convento de las Monjas Concepcionistas, the Palacio de Marquis de Tamarón (now Museo de Vejer) and the Casa del Mayorazgo.
The latter is an 18th-century Baroque mansion with a tower that served to warn the village against pirates and other enemies – climb this tower for a wonderful view over the town, the coast, and the Plaza de España.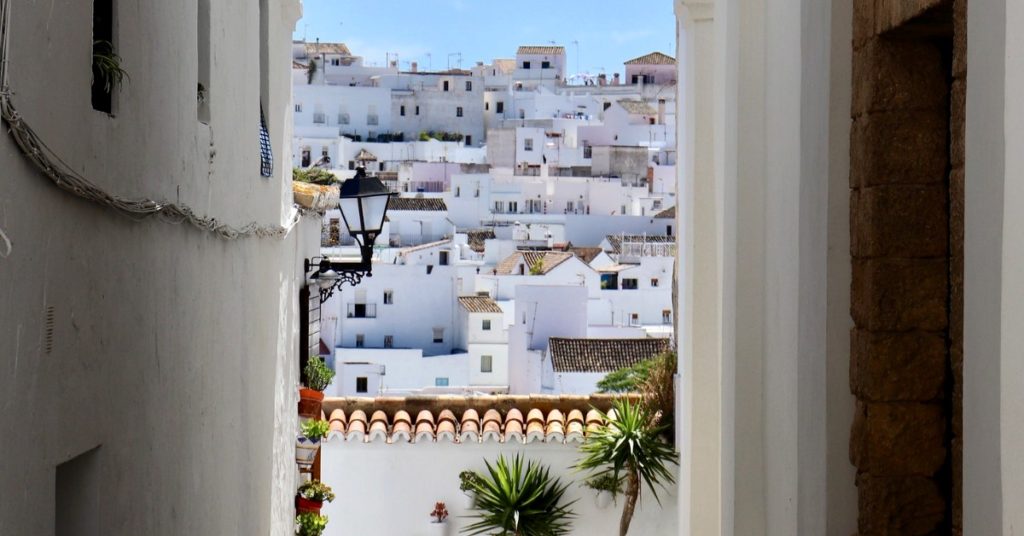 Plaza de los Pescaítos, Vejer's delightful square
Back in the 16th and 17th-century bullfights were held at the Plaza España. The beautiful frog fountain in the middle with its hand-painted Sevillian tiles was built in 1957 and used to have goldfish swimming in it. Since then it has also been called Plaza de los Pescaítos (Square of the little fish).
Ferias and fiestas of Vejer de la Frontera Semana Santa, 'La Velada' and the night of 10,000 candles In the summer months and during the numerous fiestas, this town is bustling with people, but outside of the high season, life is easy-going and wonderfully slow. The most important weeks of the year are the Semana Santa, the holy week before Easter, with the processions through the narrow streets, and the 'Velada' in August, a fiesta that lasts two weeks in honor of the Patron Saint of Vejer: Nuestra Señora de la Oliva.
Vejer has had a small but excellent jazz festival: JazzVejer, and on the 'Noche de la Velas', the old village is lit up by thousands of candles, a fairy-tale-like experience!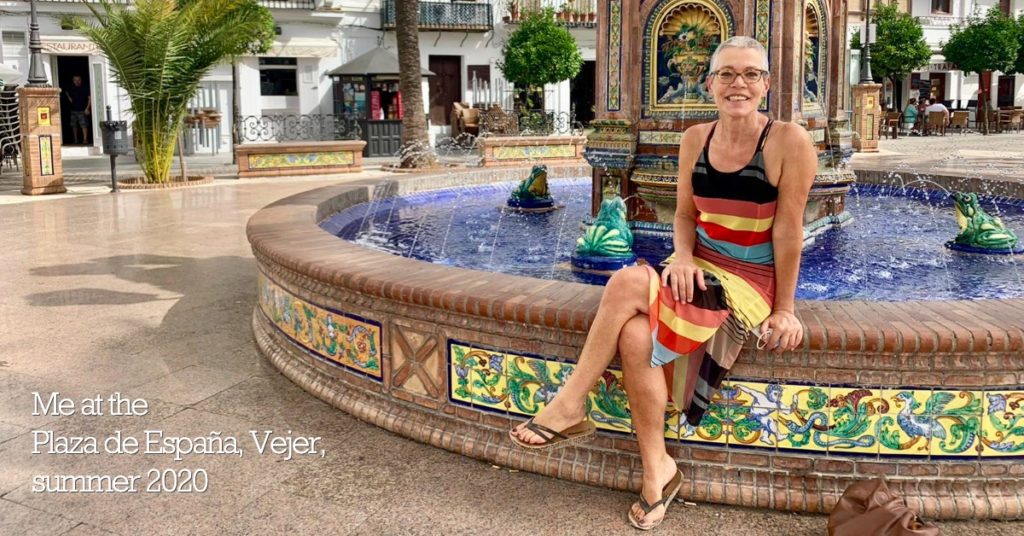 Where to eat in foodmekka Vejer de la Frontera
Vejer is a heavenly spot for foodies and famous for its many excellent restaurants that are open all year round and where you can enjoy the excellent local products. In our ebook, walk 14 brings you to the best restaurants and lets you in on where you should go for the best tapas, retinto beef, sherry wines, 'tartar de atún' or 'atún de Almadraba' with wasabi ice-cream…
One one of my favorite places to eat just outside Vejer
A truly delightful spot for lunch and dinner and our family's favorite restaurant is Restaurante Patría owned by the amiable Thomas and Åse Donsø from Denmark. Their restaurant is located a 10 minutes drive from Vejer and has an attractive garden and terrace with fantastic views of the coast. There is an innovative menu of Mediterranean cuisine with a touch of Denmark. Great salads and delightful vegetarian dishes, too. Booking ahead is recommended.
A walking tour of Vejer de la Frontera
It is almost impossible to discover all Vejer's jewels in one walk! In our ebook, we highlighted all the wonderful places and leave you to discover the labyrinth of streets and alleys at your own pace. Follow the map to get the best experience of this pretty town, enjoy!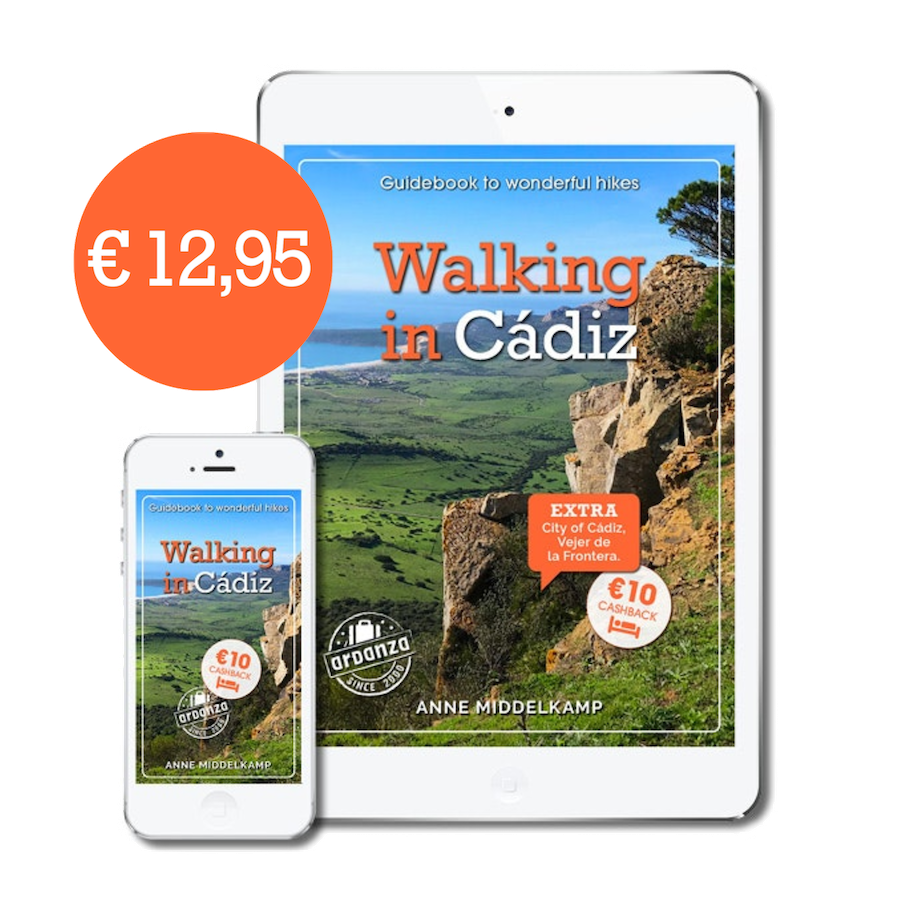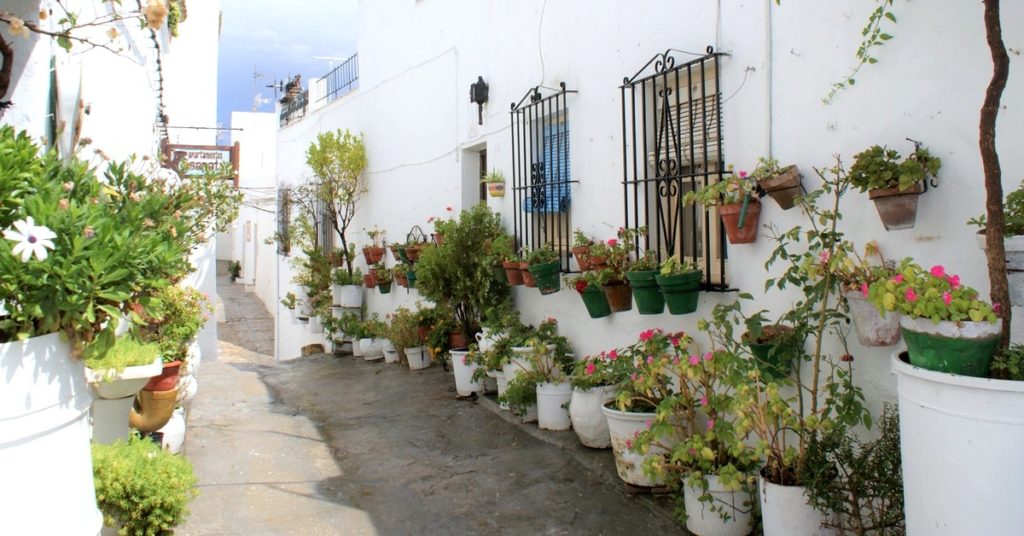 Pharrell Williams 'Happy' from Vejer
A few years ago we recorded 'Happy' from Vejer together with lots of local people- that was fun! Yours truly can be seen at 2:26 in a green suit and a hat! An initiative by Claudia and Diego from 'Ya en Tu Casa' – Spanish delicacies sent home.