When I'm going to town, I'm going to Cádiz
Cádiz, at a 40 minutes drive from where I live, is the nicest town I know! And also the nearest, lucky me! I have to spend an afternoon and evening there at least every month.
Cádiz, the oldest port city in Europe, is situated on a small peninsula at the very south of Spain. Here you find heaps of treasures, passionate flamenco, gorgeous monuments and 3.000 years of history tucked together on a very small surface. Cádiz is a beautiful, laid-back city that, although popular, is not overrun by tourists. Possibly because there's no direct flights there. (Thank goodness for that) Below i give you tips for a wonderful day in this charming city where it's impossible to get lost because you always end up back at the seafront…
City walk along all the highlights of Cádiz
In my ebook 'Walking in Cádiz', you'll find wonderful, family- and dog-friendly walks in the mountains and along the coast of the surprisingly diverse province of Cádiz. There's also a super fun city walk through Cádiz, along all the highlights mentioned here, but many more, with suggestions for places to eat and discounts on my favourite hotels and appartements!
Admiring the city from the Cathedral tower
The Cathedral of Cádiz with it's beautiful golden dome is located in the oldest and very lively district of Cádiz: El Pópulo. The construction of this huge cathedral started in 1722 and lasted 116 years. With elements of Baroque and Neoclassicism and her pretty dome, it is the focal point of the quayside. The interior is austere and there are a number of large, underground (and somewhat musty) crypts you can visit. Tip: Climb the stairs in one of the two towers for great views of the city. Near the Cathedral are the remains of a Roman theatre. It was only in 1980 that these ruins were discovered, after a fire destroyed part of El Pópulo. Built in the 1st century BC, Teatro Romano de Cádiz was one of the largest theatres of the Roman Empire and the oldest theatre in Hispania. Catedral de Cádiz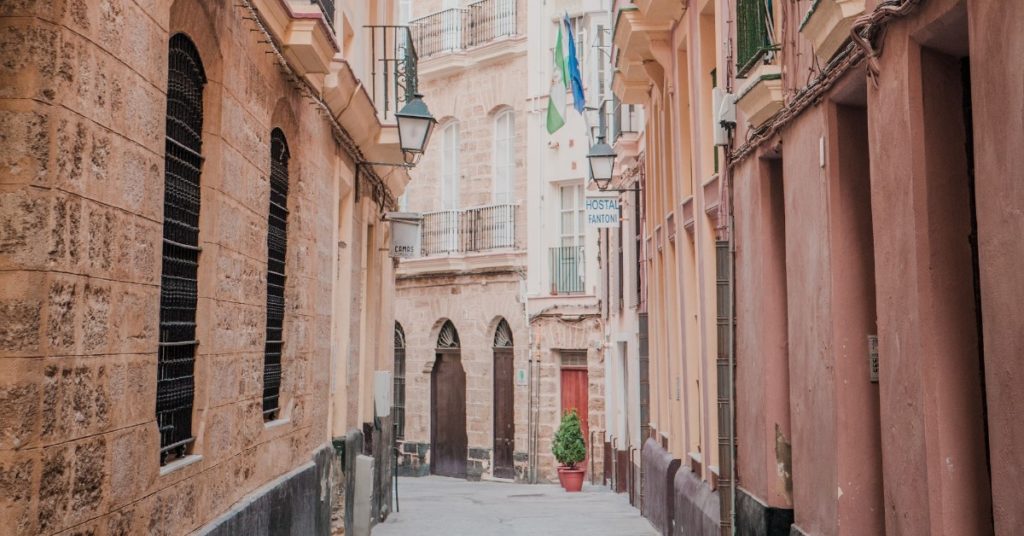 The yummiest tapa of them all at the The Mercado Central
The big Mercado Central is one of the oldest markets in Europe, originally built in 1838. Buy your veggies, meat and fish (loads of fish and seafood!) here on weekdays and saturday daily, untill 14:00 and do stay for lunch. There's a wide choice of delicious tapas to try accompanied by a cold beer or a manzanilla sherry wine. There are more than a hundred different foodstalls, each with its own speciality, from sushi (at Gadisushi) and Argentinean empanadas (Argendarte) to fresh tuna and live snails. One of my favourite tapas (and dirt cheap here!) is the 'tortillita de camarones' – a deep-fried thin pancake made of chickpea flour with prawns.
Spying on the neighbors at Torre de Tavira
When you wander through in Cádiz, look up to the rooftops. repeatedly you spot a square tower on top of of buildings. Some are 2 storeys high, some 3 or 4. From these watchtowers one could keep an eye on whether the merchant fleet, pirates or beloved ones were approaching. Of the more than 160 towers of yore, 133 still remain, which is quite unique!
The tallest of these watchtowers is the Torre Tavira with its Camara Obscura. Through an ingenious mirror system, you have a 'live' view of the entire city! From the top you can also discover a very special tower, which cannot be seen from the ground. It is therefore called "La Bella Enscondida" (the hidden beauty). A visit to Torre Tavira is really worthwhile. The English-speaking guide will point out the city's most emblematic buildings and you will have a great view from the roof!
Please note: There is no lift, so it's a bit of a climb….
Linger on the beautiful squares of Cádiz
The narrow streets in Cadiz's old town are flanked by monumental, tall buildings with beautiful facades and bay windows that testify to this city's rich past. And just when you get tired of the walking and feel like a resting a bit under a tree or at a terrace, there is a pretty square for you. Cadiz has many. Like the beautiful, shady Plaza Mina with its enormous, ancient trees and scrumptious homemade ice cream at Pazza Mina. The 'Museo de Cádiz' reveals the city's history back to its first inhabitants. (free entry).
Another nice, quiet little square is Plaza de Candelaria, with her trees and benches and Andalusia's old, only romantic Grand Café; Cafe Royality. Bit dusty and richly decorated with gold leaf and with paintings by Felipe Abarzuza. I have been to more impressive Grand Cafés in the world but have never seen one in Andalusia before. Around the corner you find one of Dutch Michelin-starred chef Leon Griffioen's two great restaurants: Contraseña. His other acclaimed restaurant is Código de Barra, both an absolute must!
At the grand Plaza de Antonio you will find the impressive Casino, a former private society where only gentlemen had access. Now part of it is a restaurant with a nice coffee bar. There is a nice library on the 1st floor. Oficially you are not allowed in there but you didn't learn that from me….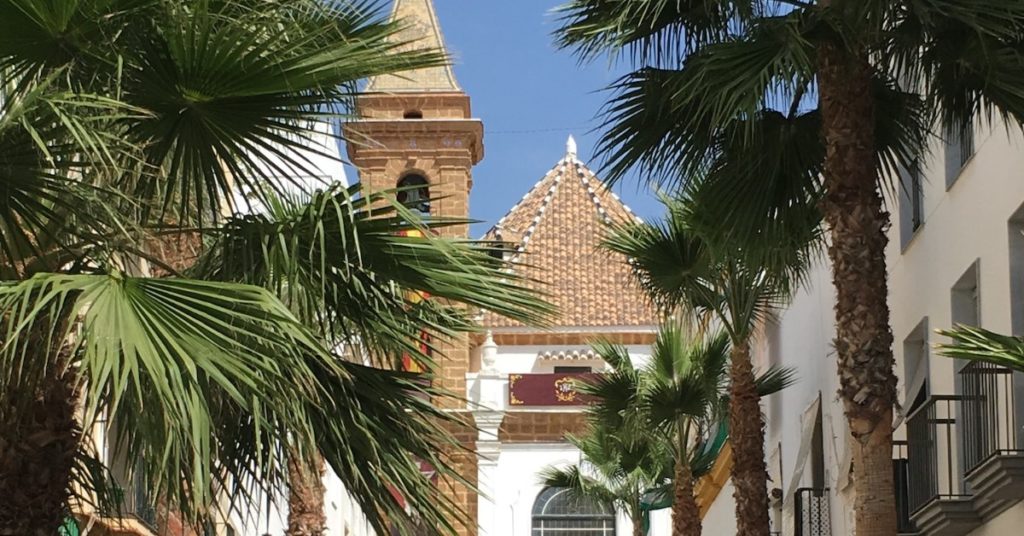 Miracles in the fishing district La Viña
This neighbourhood is called 'La Viña' – the vineyard – because the vineyards of the city used to be located here, outside of the old centre. The prettiest street of the La Viña fishing quarter is Calle Virgen de la Palma, (pictured above), with its little church and its patron saint, 'La Virgen de la Palma'. She is worshipped because she miraculously stopped the water right in front of the church during the 1755 tsunami, a true miracle! (This tsunami followed the earthquake that destroyed much of Lisbon). The la Viña has many pleasant bars and restaurants like the famous El Faro and is home to the city's most colourful bar: Taberna Casa Manteca
A the beach with James Bond & Halle Berry
In Cádiz, there's 300 sunny days a year. And the best way to soak up her golden rays is at 'La Caleta', the pretty city beach with its beautiful wooden Balneario, a former Spa and two ancient fortresses: Castillo de San Sebastián and Castillo de Santa Catalina. This is the very beach where Halle Berry rose, goddess-like, from the sea in James Bond's 'Die Another Day'. At low tide, you can walk among the fishing boats moored there, looking for crabs…
Stroll along the waterfront at sunset through the Parque Genovés, the botanical garden, and along the beautifully paved Alameda, the promenade with its century-old trees. Note the two giant ficus near Alameda Apodaca – there are two more just off La Caleta.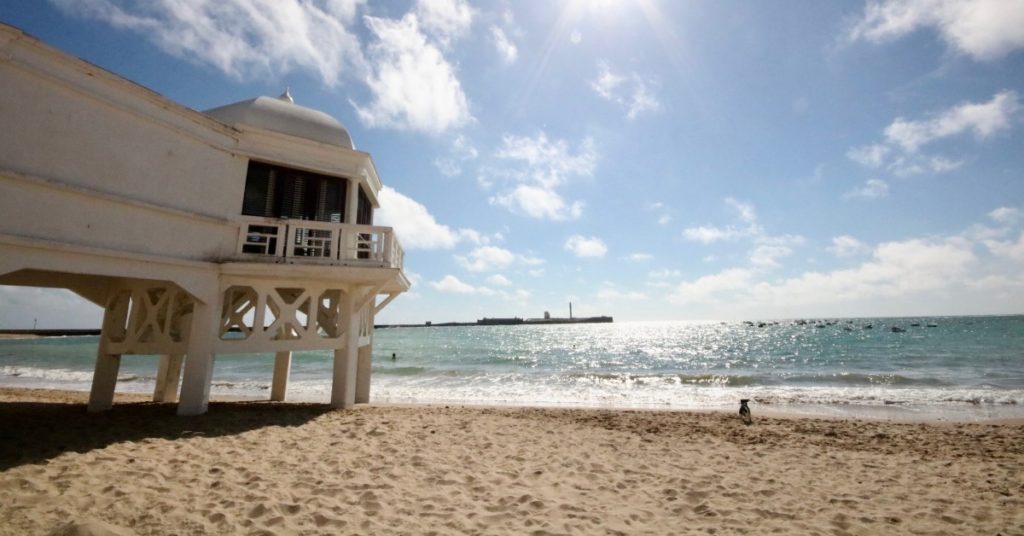 Masterpieces of Spanish neoclassical architecture
On Calle Rosario, make sure you don't miss a very special chapel: The Oratorio de la Santa Cueva. This temple consists of a very austere, underground church and, above it, a lavish, colourful chapel with beautiful works of art, including wood sculptures by Gandulfo and Vaccaro and three paintings by Francisco de Goya. Joseph Haydn composed his work "The Seven Words of our Saviour on the Cross" for this chapel and his music accompanies you during your visit to this amazing monument which is considered one of the masterpieces of Spanish religious neoclassical architecture.
Visiting hours are daily from 10:30 to 14:00 and 16:30 to 20:00. On Sundays from 10:00 to 13:00, admission is free. I managed to take a very small video of the chapel just before a group of people entered. You can still very gently hear a few notes of Haydn's symphony.
Tired of walking? Rent a bike!
A great way to get to know a city is by bike, and Cadiz is a perfect place to explore by bicycle! Las Bicis Naranjas, at Calle Antonio López, 5, rent out various kinds of bikes and organize tours.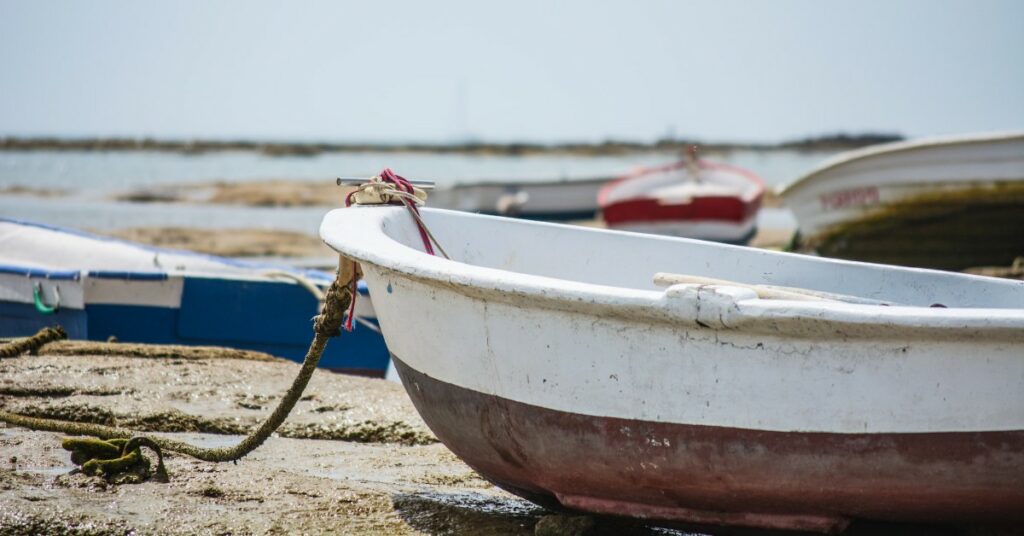 text: Anne Middelkamp